Risk-based Management in the World of Threats and Opportunities: A Project Controls Perspective
ISBN-13: 978-1508758952 (Create Space assigned)
ISBN-10: 1508758956 (Create Space assigned)
ISBN 978-0-9947608-0-7 (Canada)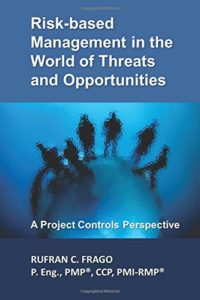 Risk-based Management in the World of Threats and Opportunities provides new and additional knowledge to project management practitioners, risk management specialists, and for undergraduate student taking up courses in Risk Management.
The purpose of life is managing risk. It is in front of all of us and in the very fabric of our daily life. Risk management is the only thing we do for a living. This is the reason why we go to work every day.
If we still do not realize this intriguing conclusion then I guess, we are all familiar with risks like close friends but we still do not know them well enough. It will show you how to better appreciate the word risk, threat, opportunity, and the concept of risk-based management in the simplest terms.
The sectional contents offer practical and common sense approach surrounding risk-based thinking to managers, directors, aspiring industry professionals, and newcomers. The material is especially design to start with the foundational principles and gradually bringing the reader to deeper topics using simple terminologies in conversational style.
Risk-based management is a serious approach and a philosophy that takes risk as major consideration while managing any endeavor throughout its life cycle. Risk-based management increases the probability of success in achieving organizational and individual objectives.
It simply means that risk should be the main contemplation by anyone while keeping an eye to achieving objectives. Risk is a primary concern in pursuit of a goal. Risk is not only a factor or featured element of management. It is the main character at play. Risk-based management gives importance to objectives. Failing to mitigate the risk means failure to meet the objective/s.
Each chapter is an open-minded appraisal of risk, its concept, its approaches, its visual, basis, assumptions, methodologies, tools, and applications. Risk attributes were revisited and explained in a more vivid, flexible and friendly manner.
I want to talk about risk and risk-based management with someone fresh from high school and one deep in the fields, yet coming to the same understanding because this book has bridged understanding. One must remember the idea of risk like a picture. If the book manages to accomplish that, then I consider the book a success
Download and read this book, find out, and decide for yourself. Big discount if you buy it here!