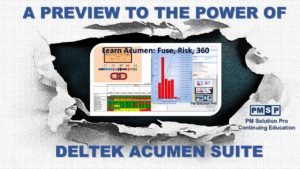 Watch and Learn the Power of Deltek Acumen Suite of Applications. Click on the image or follow any of the link below.
#pmspfreecourse #pmspnewsletter #pmspblog #pmsppromo
Deltek Acumen: Fuse, Risk, and 360 Join Rufran C. Frago, CEO and Founder of PM Solution Pro, a Deltek Partner, as he walks you through the easiest way to improve project schedule quality using Acumen Fuse, Risk, and 360.
Join him in this short ten minutes introductory video on-demand webinar as he discussed schedule cleansing, forensic, baselining, and recovery. Be prepared to be amazed seeing the amazing power of Acumen! This video presentation is a preview of the courses that will subsequently be offered by PM Solution Pro Continuing Education on the following management tools knowledge Areas:
1) Acumen Fuse
2) Acumen Risk
3) Acumen 360
Rufran will demonstrate how project risk is identified, quantified, and mitigated the quickest possible way using Acumen Risk. He will guide you on how to achieve the most efficient path to project completion while bringing all team members on the same page (Acumen 360). Deltek Acumen process of S1 to S5 maturity framework will be explained.
Rufran highlights some of the best practice tips and how to avoid major sticking points which makes using and learning the tool difficult. Again, and take note: "You will accomplish all these goal and time-saving feats using but a single tool, the Deltek Acumen Suite of applications."
[ninja_form id=5]