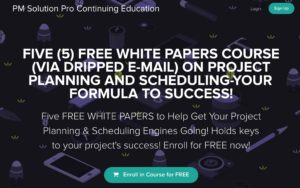 PM Solution Pro Continuing Education will send the first FREE WHITE PAPER to you upon enrolment and one more every other day thereafter until you get all five of them. Enjoy reading these useful materials and increase your company's strategic advantage at the same time.
REMEMBER, THESE COURSE MATERIALS ARE ABSOLUTELY FREE!
#projectmanagement #planning #scheduling #scheduledevelopment
#pmspfreebies #pmspwhitepaper #pmspnewsletter
Follow the link below or click on the image.
http://bit.ly/2KPTAUj